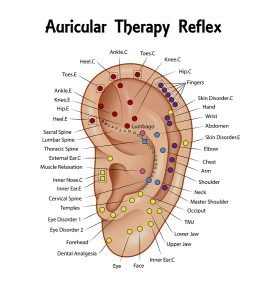 Chinese medicine developed over 5000 years ago and includes many drug-free, alternative therapies.  Acupuncture is one of the best known, but isn't the only one.  Auriculotherapy and reflexology are others which can be done by professional practitioners but can also be used as home therapies.   In this episode Dr. Nedd will discuss:
What is unique about the shape of the ear in relation to Chinese medicine.
What reflexology is and how it involves both the feet and the hands.
Real-life examples of using auriculotherapy to help someone have dental work without Novocaine and without pain.
What your iris can tell you or your doctor about your health.
Resources mentioned in this episode:
How Piercings Affect Acupuncture Points in Different Parts of the Body
Nedd Chiropractic & Wellness Center
Phone:  (727) 467-0775
1221 Cleveland St.
Clearwater, FL  33755
Podcast: Play in new window | Download
Subscribe: Apple Podcasts | Android | Google Podcasts | Stitcher | Spotify