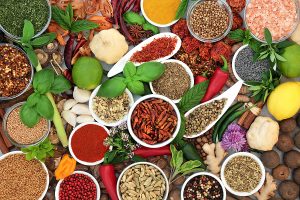 You'll find spices and herbs in almost every prepared meal you eat.  They add flavor and sometimes heat.  But they also help your health out in many ways that you probably don't know about.   In this episode, Dr. Nedd will cover:
What the difference is between spices and herbs and where they come from.
The most popular spices and herbs in the U.S. and worldwide.
How the spices and herbs from different countries like Thailand, India and Jamaica add a different flavor to their foods.
The health benefits of the most popular herbs and spices.
Dr. Nedd's favorite spices and herbs and how he grows some of them himself in his vegetable gardens.
Nedd Chiropractic & Wellness Center
Phone:  (727) 467-0775
1221 Cleveland St.
Clearwater, FL  33755
Podcast: Play in new window | Download
Subscribe: Apple Podcasts | Google Podcasts | Spotify | iHeartRadio | Stitcher | RSS