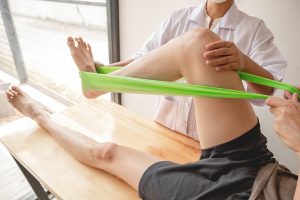 Knee injuries can definitely take you out of the game and make normal activities of daily living more difficult. So fully rehabilitating a knee is very important. Both athletes and average, everyday people can need knee rehabilitation but when done incorrectly you can end up with instability not only in the knee, but also in other parts of the body from there on up. In this episode, Dr. Nedd will cover:
Why knee rehab has to be done correctly and completely.
The most effective therapies for rehabbing a knee.
Why it's vital to work with an experienced specialist to properly rehab a knee injury.
What you can do at home to enhance a rehab program.
The differences between the knee and the shoulder joint and how those lead to differences in rehab programs for each joint.
Nedd Chiropractic & Wellness Center
Phone: (727) 467-0775
1221 Cleveland St.
Clearwater, FL 33755
Podcast: Play in new window | Download
Subscribe: Apple Podcasts | Google Podcasts | Spotify | iHeartRadio | Stitcher | RSS