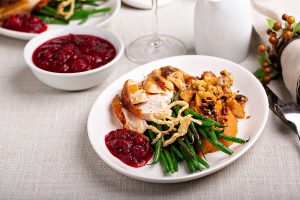 It tastes so good but we feel like crap afterwards.  Holiday meals are great but they aren't necessarily healthy for us.  No one wants a kale and tofu meal for Thanksgiving so how do you do both tasty and healthy for holiday dinners?  In this episode, Dr. Nedd and our special guest, Janine Allington, will cover:
The kind of ingredients to avoid when going for healthier holiday means.
Healthier substitute ingredients that let you make yummy dishes.
Different ways to prepare turkey, stuffing, sweet potatoes, mashed potatoes and cranberry sauce that are healthier for you and keep the taste you like.
Desserts, desserts, desserts.  But healthier.
Referenced (recipes) mentioned in this episode:
Lo Carb High Protein Cottage Cheese Pancake recipe
Nedd Chiropractic & Wellness Center
Phone:  (727) 467-0775
1221 Cleveland St.
Clearwater, FL  33755
Podcast: Play in new window | Download
Subscribe: Apple Podcasts | Google Podcasts | Spotify | iHeartRadio | Stitcher | RSS